"… a force of attraction that exists between any two masses, any two bodies, any two particles. Gravity is not just the attraction between objects and the Earth. It is an attraction that exists between all objects, everywhere in the universe."


–NASA's definition of gravity, starchild.gsfc.nasa.gov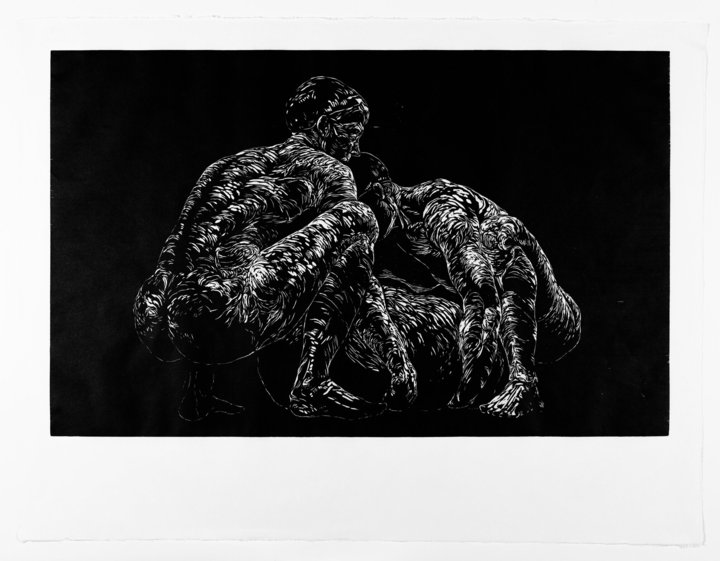 The four works in this series, at their heart, depict the pull of bodies toward one another. They describe the intimacy and affection between bodies that bear a load together. These bodies are not merely for the viewer's pleasure. These are bodies of women working, lifting, carrying, shifting burdens as they labor jointly in space and time. Heaviness is welcomed as that which brings them together. The effort required to act on substantial weight strengthens them, adds resilience, creates growth. These figures move forward, resisting the call of weightlessness that brings atrophy.

These prints carry on the tradition of Käthe Kollwitz' relief print Elizabeth and Mary, Vincent Van Gogh's painting Two Peasant Women Digging in Field with Snow, and Albrecht Dürer's Pillow Studies (in which pillows are rendered as tactile, are stand-ins for the head itself, or the heaviness of sleep and dreams).

Two of the prints bear titles from authors from whom I often draw inspiration: specifically, Jeannette Winterson in Weight: The Myth of Atlas and Heracles and Elena Ferrante in The Days of Abandonment. The figures in these prints could be seen as alluding to Ferrante's Lila and Lenù of the My Brilliant Friend novels: two women, lives intertwined through joys, tragedies, and unknowns.